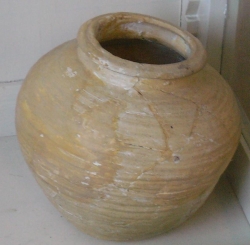 I went to a men's conference this weekend.  The focus was on discipleship.  There were musicians leading in worship and speakers compelling us to form relationships with other men in order to disciple them. There were also stirring dramas and videos demonstrating characteristics that we should seek to have in our lives.
But the one thing that resonated with me more than the speaking, music or videos was the testimony of one of the musicians. He and his family suffered a horrible tragedy in their family recently. As he began his set, he told of a time after this event that he sat down and decided whether he still believed the words to the songs he had been singing. He didn't want to sing them anymore if he didn't believe them to be true.  He shared how even the morning of the conference, he had no desire to play music. He just wanted Christ to return so that he could be reunited with his loved one.
It struck me, I was moved not so much by the heart-wrenching story, but by God's glory and power evidenced in this man's life. I was reminded of Paul's words to the Corinthians:
_But we have this treasure in jars of clay to show that this all-surpassing power is from God and not from us. We are hard pressed on every side, but not crushed; perplexed, but not in despair; persecuted, but not abandoned; struck down, but not destroyed. We always carry around in our body the death of Jesus, so that the life of Jesus may also be revealed in our body. For we who are alive are always being given over to death for Jesus' sake, so that his life may be revealed in our mortal body. 1 Corinthians 4:7-11 _
This brother in Christ did not put on a smile and pretend like everything was fine. He was honest in his struggles.  He shared his confusion while trying to make sense of this event.  He was honest, and through his honesty God made himself evident.
This is one thing I think that the American church is lacking.  We are too afraid to let people see us when we are hurting and have no control over our circumstances.  But it is precisely these times when God's power and glory shines brightly from jars of clay.