Over the last few months I have been wanting to get back into more analog hobbies. Growing up, both of my parents were weavers and we would go to the occassional fair and show off our work. I remember one time when we were living in Illinois, they let me demonstrate and I had a newspaper reporter asking me questions for his article. My dad did some woodworking when he had the time. My mother also did needlepoint and quilting.
I enjoyed weaving but I have never had the patience for stringing a loom. So recently, I have been trying to think of a way to make a modified Navajo loom that could be strung quickly but also have the advantages of treadles, the pedals or levers that separate the threads. I haven't worked out all the ideas and I've been wanting to start on something. Then the other night I was over at a friend's apartment and she pulled out a blanket she was crocheting. That got me thinking. My grandmother used to crochet. I tried to have her teach me a couple of times but I just never got it. Despite my previous failures, I figured with YouTube I could learn this time around.
So yesterday afternoon I stopped by Wal-Mart and picked up some yarn and some crochet hooks. When I got home I went to YouTube and searched for crochet. I got thousands of hits. I clicked through a few of the results and quickly found the ones I was looking for. I came across Teresa Richardson's channel and found a beginner's video on how to create a chain, the basic stitch. The videos are really good. She narrates what she is doing and will repeat the steps several times. After showing you several minutes worth of work in real-time, she then shows her work in slow motion. So I sat in my room yesterday with the laptop in my lap watching the video, trying some stitches, then going back to the video to make sure I was doing it right. After I got the chain stitch down, I watched the video on the single stitch. After an hour or so of practicing that I went on the double stitch. Teresa has over 700 videos so I think I will have plenty to keep me occupied. I also enjoy that in each video she reminds you that your stitches in the beginning will be uneven, but will get better with practice. As you can tell from the photo, I have some work to do. I can see progress though. In the beginning I was pulling on the yarn and my stitches were so tight I couldn't get the hook back through. I also paid more attention to my edges as I went along.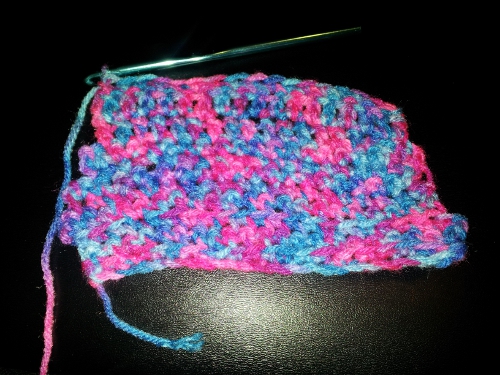 So I worked on this for about four hours yesterday. Several times I had to stop and pull out some of my stitches because I messed something up. But I also noticed that after a while, everything just seemed to flow. I could see the pattern of how to make each stitch and I just focused on that. It was kind of relaxing.
The most interesting thing about that experience yesterday was the memories it brought to mind. My grandmother, on my mom's side, crocheted for years. My brother and I both have full-length blankets she made. For years my mother would decorate an entire Christmas tree with snowflakes my grandmother had made. She moved in with my family after she had a mild heart attack in 1991. Almost without fail, you would find her in her pink wingback chair crocheting. The thread would sit in the plastic bag from whatever store she had bought it in. She crocheted well into her 80s before her Alzheimer progressed so far that she gave it up. Another memory related to that pink chair was the times when she would sit there reading her bible. I came to Christ about five years before she passed away and I never took the time to ask her about her faith and all the things that had transpired in her life.
I remember visiting her in Alabama and staying in her little mobile home trailer. Her nephew owned an auto repair shop next door and one of her sisters lived on the corner next to the shop. My grandmother had one of those old televisions that sat on the floor and it only got about four channels. She had a few toys for us to play with. There were some Duplo blocks and a few farm animal figurines and a truck. After she moved in with us, she would help out with some of the yard work. One time in particular, we had this small tree off the corner of the house. My mom wanted it cut down, so one morning my grandmother went out and proceeded to cut it down. She didn't simply cut it down, however. She took the mattock we had and dug out the root system. When she was done, there was a hole about 2-3 feet deep and 3-4 feet wide. At this time, my grandmother was probably in her early 80s, 5'4" or so and maybe 100 pounds if she got caught in the rain. That's something else I remember about her. She had a work ethic. She worked hard. That's what made so much harder on us and on her when she developed Alzheimers. In those rare times when she was her old self, she expressed her frustration over what it was doing to her.
So as I sat there crocheting yesterday, all of these memories came flooding back. I don't think about my grandmother much, so it was nice to remember the good times.