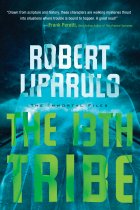 "The 13th Tribe" by Robert Liparulo follows a group of immortals. They were among those that sinned by worshiping the golden calf at Mount Sinai. They are cursed with immortality and separated from God both on earth and in heaven. They believe that by punishing sinners with death they will atone for their sins and lift the curse. Jagger, a man trying to escape hurts and reestablish his faith in God is embroiled in the tribes latest scheme for atonement. Can Jagger stop them before it's too late?
I enjoyed the story. The idea of being "cursed" with immortality and separated from God's presence on earth was an intriguing concept. However, I didn't feel the author developed that enough. I got the feeling that this curse was more like an annoyance or a bearable burden. I didn't get the sense that living for 3500 years had tormented them and crushed their souls.
Once the big plan was put into motion the story picked up and barreled forward. Where I felt the author lacked in developing the Tribe's anguish and torment, he made up by delving into the spiritual struggle the protagonist was walking through. He suffered a tragedy prior to the start of the book and was still trying to make sense of it and find peace. When he gets drawn into the hunt for the Tribe, his struggles only seem to mount. I really empathized with Jagger.
If you're wanting an adventure with a dash of Indiana Jones, Jason Bourne and The Highlander, then you'll enjoy this story. A bonus is a protagonist who has faith but is wrestling with God and doesn't have it all figured out.
Disclosure of Material Connection: I received this book free from Thomas Nelson Publishers as part of their BookSneeze.com book review bloggers program. I was not required to write a positive review. The opinions I have expressed are my own. I am disclosing this in accordance with the Federal Trade Commission's 16 CFR, Part 255: "Guides Concerning the Use of Endorsements and Testimonials in Advertising."