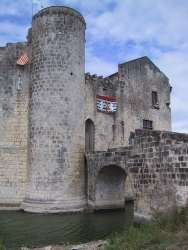 I ended up writing my Systematic Theology paper on technology and how it has impacted Christianity in the past and how it will in the future. I'm including an excerpt of the paper from my discussion of GodTube Tangle.
Download Technology and the Ministry of Reconciliation(pdf). I would appreciate any feedback you could provide.
GodTube Tangle is a new video sharing site that is marketed to be a direct competitor to YouTube. Upon arriving at the site, you begin to understand that this is supposed to be YouTube for Christians. A look at the top 20 videos on the site confirms this assumption. The number one video is of a little girl reciting Psalm 23. It is a cute video with over four million views. A video called "Baby Got Book", a parody of "Baby Got Back" from a decade ago is third on the list. There are also three parodies of the Mac vs. PC advertisements, that round out the top 20 videos on GodTube Tangle.
As the body of Christ why is it we must try to emulate or rip off the world's ideas instead of coming up with our own. We are Christians, which means the God of the universe lives inside each believer. He created this world. He gave each of us minds to pursue thought. Why don't we ask God for unique ideas that will reveal His glory to a lost world instead of trying to Christianize bad rap songs?
Leaving the discussion of the content, the question needs to be asked. What is the purpose of GodTube Tangle? According to an interview with CEO Chris Wyatt on ABC Nightline, the goal of GodTube Tangle is to reach the 2.1 billion Christians in the world and help them grow in their faith.
This I believe is the problem with many so-called Christian entities. They are inward focused. They take the words of John in his first epistle and use it for a proof text. "Do not love the world or anything in the world. If anyone loves the world, the love of the Father is not in him. For everything in the world-the cravings of sinful man, the lust of his eyes and the boasting of what he has and does-comes not from the Father but from the world." Alternatively, they take the symbolism in Matthew 5:14-16 too far, that we are to be a city on a hill, shining our light that others would see our works and glorify God.
Dr. Daniel Morgan, Associate Professor of Missions and Director of Nehemiah Project at Southwestern Baptist Theological Seminary, puts forth that the church has moved away from a fire base mentality. With a firebase, a soldier goes to reequip and rest after battle, but then he goes back out to the front line and re-engages in the battle. He states that many in the church have adopted a fortress mentality. They go inside their fortress and do not leave the security of the walls. They eat, sleep and fight from behind the walls.
There are those in the Christian church who have adopted this mindset. They believe that we are to separate ourselves and protect ourselves behind fortified walls. When the world attacks, we will defend ourselves and yearn for when the battle will be over. We will live pious lives so that we can fulfill Matthew 5:16. The world will be able to see our light through the arrow slits in the walls of our fortress.
To begin with, the fortress mentality goes against the Great Commission. Christ commands us to go into all the world. That cannot be accomplished from behind the walls of a fortress. The armor of God that Paul describes in Ephesians is one of an infantryman, not of a fortress guard. We see how we are to live in the world in 1 Peter 2:11-12. "Dear friends, I urge you, as aliens and strangers in the world, to abstain from sinful desires, which war against your soul. Live such good lives among the pagans that, though they accuse you of doing wrong, they may see your good deeds and glorify God on the day he visits us." We are to live among the world but not be conformed. By rubbing shoulders with the world every day and living lives set apart from the world, God will receive glory. Just a few sentences before Jesus talked about believers being the light of the world, he called believers salt of the earth. Not only are we to reflect God's glory through our actions but we are to be change agents in our culture.
A better use of the time and resources of GodTube Tangle would be to infiltrate, for lack of a better word, YouTube. They should begin by not posting "Baby Got Book" or the little girl reciting the 23rd Psalm. They should pray and fast as they wait on God to teach them how they should go about redeeming YouTube. Then they create videos that clearly explain the Gospel and God's work in humanity through preaching, story telling, music and even parables. Jason Moore was quoted in Jennifer Harris's article about the use of metaphor. "We've gotten so far from the method Jesus gave us… Most sermons are informational, mostly removed from story and parable. Jesus gave us the model for a reason. If Jesus didn't say anything without using metaphor, what does it mean that we don't use it all?" Those at GodTube Tangle should heed that advice, put forth their very best effort, and create something that is original, culturally relevant, but above all eternally significant.